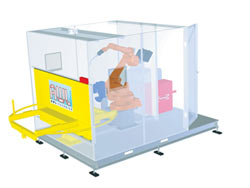 Welding modules are designed for automation of the following joining technologies: electric arc welding, contact welding and laser welding. Other types of mechanical joints can also be used in the projects both individually or combined with other types.

This equipment is suitable for the manufacturing of the following types of products: automobile industry: seat frame; instrument panel; pedal lever; steering column; exhaust system; bumpers; fuel tanks; doors; body panels; metal doors/windows; sprinkler systems; heating systems; metal furniture; metal shelves.
The company is developing its equipment irrespective of the mark and type of the robot device. Specialists of the company develop their own methods for all types of welded joints as well as for multiple technological processes containing these joints. Certainly, any technique can always be adapted to any particular production characteristics.
Basic modules are functional, have an attractive price, compact, easy to use, transportable and adjustable. The options available for these modules can satisfy the requirements of any industrial production.
Standard robotic installations are made in compliance with the modular technology principle. As a result the operational zones of the manipulator and operator of the welding robot are divided. The entire structure is placed on a rigid foundation, designed for convenient transportation.

The scheme of the simplest welding unit consists of:
- room with manipulator
- turn table with one rotation axis and two operation areas
- manipulator's NC block
- source of the welding current

Due to such layout a separate room for the operation of the manipulator is not required. It is possible to change the quantity of rotation axes of the table, to equip it with additional electrical drives, to replace the welding source, to complete the complex with the exhaust unit.

| | | |
| --- | --- | --- |
| Parameters | Measurement unit. | Value |
| Number of tables | pcs | 2 |
| Number of robots | pcs | 1-2 |
| Radius of the manipulator | m | 1,45 |
| Processed detail diameter | mm | 1200×800 |
| Blank weight | kg | 250 |
| Dimensions of module | mm | 3250×2300 |
| Transport dimensions | mm | 4200×2300 |
| Max weight of module | kg | 2600 |
Свяжитесь с нами для уточнения технических характеристик оборудования заполнив форму или по телефону (812) 309-73-37