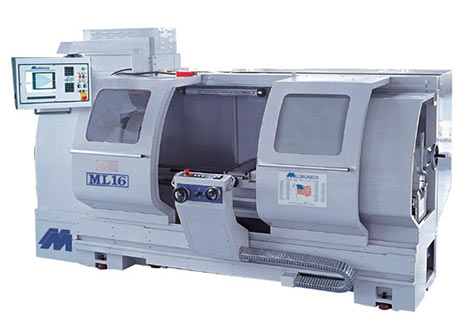 The machine is developed for precise machining of parts such as the body of rotation. Due to the CNC, the machining procedure can be fully automated, centering the head and temporarily machining the fixed flange by using the opposite spindle head and by additionally combining the process with the rotation of item. The machine can turn the internal and external cylindrical, spherical surfaces and surfaces with various profiles, cut and restore the threads and drill center holes by using tools with or without a drive. The machine equipped with tools, including the electrical drive enables drilling of holes located on the opposite ends of the axis, restoring the holes and turning. The machine with lunette can perform the machining of long and thin shafts. The structure of the machine makes it possible to produce the various modifications of the machine with numerous auxiliary accessories in compliance with the customer requests.
The machine is equipped with CNC rack; this significantly reduces the time for machine setting, and also excludes the necessity to have highly qualified and highly paid operators to perform complex turning operations. The last development includes an interactive module, which allows you to attract operators without any special programming skills. The graphic module allows for the operator to estimate the mechanical trajectory of the tool before the machining.

The unique technologies were used in the construction of the machine: system of thermal compensation of the ball screw, inverse sliding guides between the table and the support, as well as the massive cast machine bed.

| | | |
| --- | --- | --- |
| Diameter of machining above the frame assembly | mm | 300...500 |
| Х axis motion | mm | 300...650 |
| Z axis motion | mm | 1600 |
| Spindle rotation speed | rpm | 100 - 2600 |
| Positioning accuracy | mm | ± 0.0063 |
| Maximum workpiece weight in the corse of machining by rear center | kg | 1000 |
| Machine weight | kg | 3850 |
---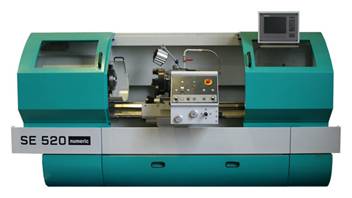 A CNC lathe is designed for machining of such parts as shafts and flanges in the course of serial and mass production. The lathe allows for turning the internal and external cylindrical, cone and spherical surfaces, cutting the internal and external threads, drilling and core drilling holes.
It has a reliable cast-iron body and a high power drive. Its CNC is designed so that the operator does not need any special software skills to create the programs for machining of parts.
The machine design and structure meets the EC norms for mechanical engineering.
The availability of the machine tool head allows for significant expansion of machine technological capabilities, increase in productivity, and improvement of the machined parts quality.
The work area is closed with protective housings. The machine has a convenient access to the mobile CNC remote control.
Material of the machined parts: all kinds of steel, cast-iron, light alloys, nonferrous metals.
Modern, highly efficient CNC machines are used in all branches of the industry - automotive, power engineering industry, aerospace, instrument engineering, and also for production of equipment for oil and gas sector.

| | | |
| --- | --- | --- |
| Diameter of machining above the frame assembly | mm | 270..520 |
| Х axis motion | mm | 270 |
| Z axis motion | mm | 1550 |
| Spindle rotation speed | rpm | 20 - 2200 |
| Achievable machining accuracy | | IT7 |
| Maximum workpiece weight in the course of machining by rear center | kg | 1000 |
| Machine weight | kg | 2700 |
Свяжитесь с нами для уточнения технических характеристик оборудования заполнив форму или по телефону (812) 309-73-37