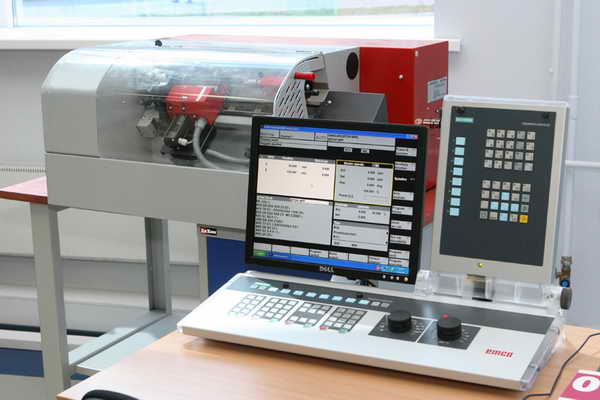 Considering the requirements of the contemporary production, the Austrian company ЕМСО has created a system of training on NC machines, offering a totally new approach to the training process.
Study of NC systems is performed on the basis of the special interactive training class ЕМСО.
ЕМСО classes provide learning the programming of the most popular NC systems: Siemens Sinumerik 810D/840D, Fanuc 0i and 21, Heidenhain TNC 426/430, Fagor 8055. Statistically, more than 73 % of world's metal-cutting machines produced are equipped with these NC systems. Moreover the future NC machines operator is learning both the system of programming in standard mode with G-code and the modern dialog programming system.

From the very beginning, training includes working with the latest NC machines. Special turning and milling machines were created for training purposes; this allows preventing the probability of failure of expensive industrial equipment, saving money, resources and machine time. The training equipment is fully identical to industrial equipment. Even the bench-mounted machines Concept TURN 55 and Concept MILL 55 perform more than 80% of the functions of the modern industrial machine.


Свяжитесь с нами для уточнения технических характеристик оборудования заполнив форму или по телефону (812) 309-73-37