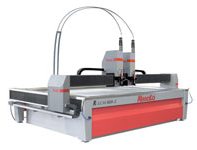 Principles of hydroabrasive cutting

During hydro-abrasive cutting, water is mixed with an abrasive in a special chamber and is passes through a narrow nozzle of the cutting head under the pressure up to 4000 Bar. The hydro-abrasive compound is discharged from the cutting head with a speed exceeding three times the speed of sound.
Advantages of hydroabrasive cutting

- There are no heat effected zones, hardened zones;
- light mechanical load on material is facilitates the machining of complicated parts, especially with thin walls;
- there is no emission of dust, smoke or toxic gas;
- there is no need of multiple tool set and tool grinding;
- minimum material loss in the course of cutting;
- there is no need of de-burring;
- there is no need of re-machining due to the high quality of the machined surface;
- relatively high speed of cutting of thick materials, capability to cut the thickness up to 200 mm, depending upon the material type;
- total absence of damaged edges of closely adjacent holes (thickness of strap between two holes can be 0.5 mm and even less);
- Possibility to operate in a wide range of thicknesses and material types;
- Very simple and fast reprogramming.

Application

Examples of the materials that can be machined by the hydro-abrasive cutting unit: stainless steel, aluminum, titanium, copper, tin; glass, marble and granite, ceramics, composite sheet material; gypsum, paper, cardboard, plywood, fiberglass; mineral- cotton, wool, leather, rubber; composite materials, foam plastic, finishing material for floor coating, packing material etc.

| | | |
| --- | --- | --- |
| Parameters | Units of measure | Value |
| Width | mm | 1500-3000 |
| Length | mm | 1500-6000 |
| Quantity of heads | pieces | 1-3 |
| Traverse speed | mm/min | 1 - 30000 |
| Working pressure | bar | 4000 |
| Air pressure | bar | 6 |
| Water nozzle | mm/m | 0,25 |
| Abrasive tube | mm | 0,8 |
| Abrasive feed rate | g/min | 100 -1000 |
| Abrasive feed | type | Automatic |
| Pressure vessel | l | 200 |
| Operating system | l | |
| Hard disk | Gb | 40 |
| Internet | type | RJ45 connection |
| Operator panel | model | 15", «Tough screen», Windows XP |
| Adjustment of abrasive flow | type | Automatic |
| Operator panel | type | Completevisualization |
| Abrasive lower level indication | type | Automatic |
| Software | type | Software I - Gems R6 - Cam 2D |
| High pressure pump | model | PJE4 - 4000 |
| Power | kW | 37 |
| Water consumption | l/min | 3,8 |
| Safety | certificate | CE, ECM, EU |
Свяжитесь с нами для уточнения технических характеристик оборудования заполнив форму или по телефону (812) 309-73-37