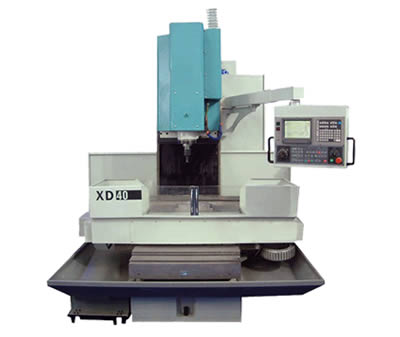 A new generation of vertical CNC milling machines. This is ideally suited for small series and single productions of middle- and small-sized items.
By default the milling machines XD-40 are supplied with CNC system Fanuc Oi-mate, but at the customer's request the machine can be equipped with the CNC system Siemens 802C/8020.

Such characteristics of this machine as 3-axial parallel control, high level programming (macrocodes) and graphic display, ensure the excellent precision of command's execution and allow the operator to quickly achieve the desired result.
The DC servo drive, with digital control, provides accurate and fast motion on all 3 axes. A large number of operations, such as milling, boring, drilling, cutting the threads, and etc, can be performed by one unit.


The milling machine table and support are cast from special high-strength cast iron, they are compact and have a large loading area, high level of hardness and excellent anti-vibration characteristics, which can provide the highest accurateness of machining on lathes of this class. The unit includes a powerful high torque spindle and built-in lubricating and cooling fluid delivery system in the cutting area, this allows for high-speed cutting modes.
A rotary table can be ordered as additional equipment (4th axis), it is controlled by the central CNC system of the machine. With rotary table it is possible to apply the 4th axes machining of many types of contours.

Technical characteristic
| | |
| --- | --- |
| Table dimensions, mm | 320x700...720 х 900 |
| X/Y/Z-axis motion, mm | от 450/350/380 |
| Feed on X/Y/Z, mm/min | 1-5000 |
| Fast motion on X/Y/Z, mm/min | 15/15/15 |
| Maximumspeed, rpm | 4000 (6000) |
| Positioning accuracy on X/Y/Z, mm | 0,02/0,016/0,02 |
| Machine dimensions, mm | 2450x1590x2200 |
| Machine weight, kg | 2000 |
Свяжитесь с нами для уточнения технических характеристик оборудования заполнив форму или по телефону (812) 309-73-37